CERTIFICATION
Quality
ISO 9001 : 2015 - Valid from 21 November 2022 until 08 November 2025
Environment
ISO 14001 : 2015 - Valid from 21 November 2022 until 14 November 2025
Standar Industri Hijau - Valid from 16 December 2022 until 15 December 2026
Energy
ISO 50001 : 2018 - Valid from 12 March 2020 until 11 March 2023
Safety
ISO 45001 : 2018 - Valid from 21 November 2022 until 20 November 2025
Security
Global Security Verification - Valid from 29 December 2022 until 28 December 2023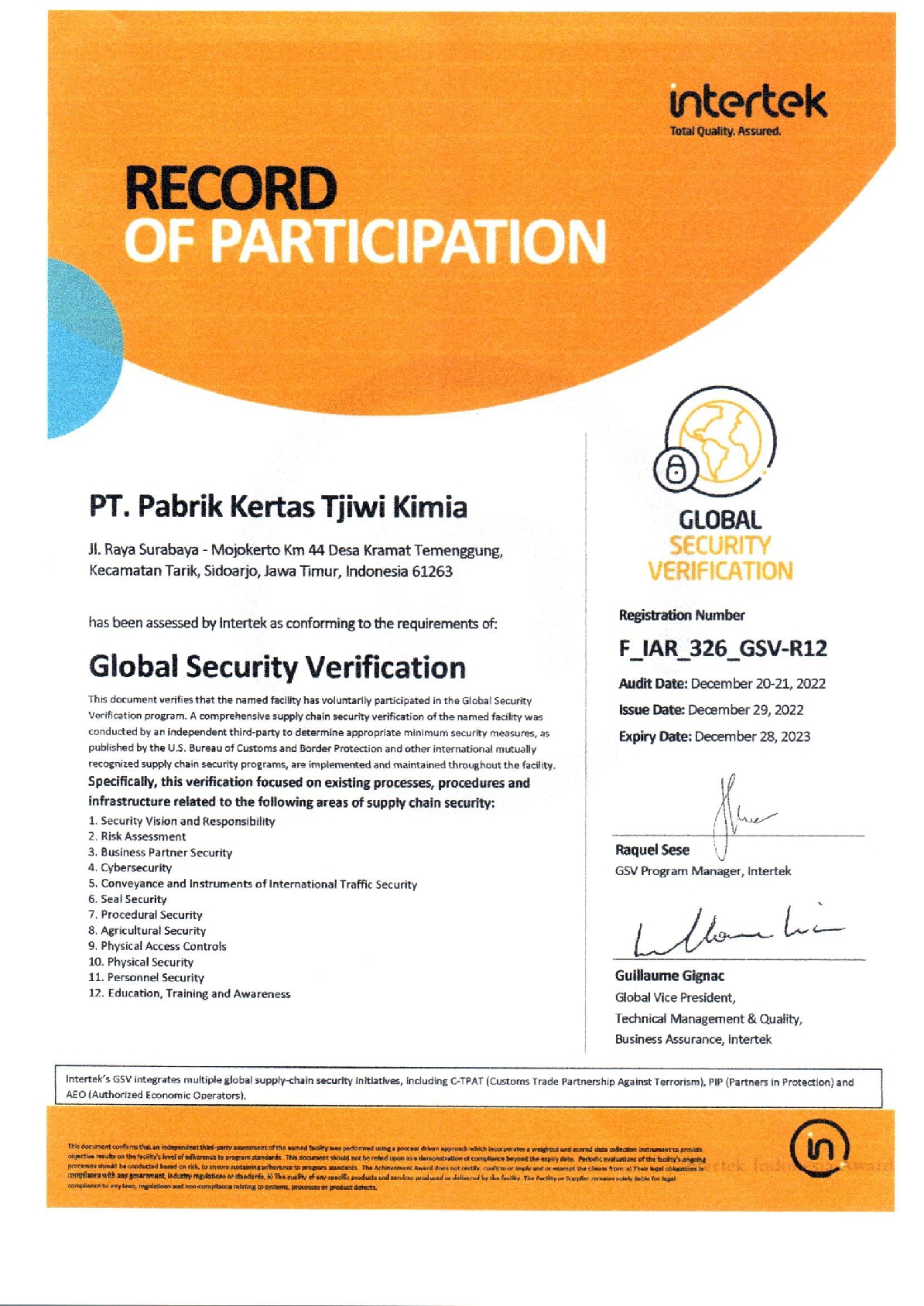 Chain of Custody
PEFC (Programme for the Endorsement of Forest Certification) - Valid from 18 January 2023 until 17 January 2028
SVLK (Sistem Verifikasi dan Legalitas Kayu) - Valid from 18 May 2021 until 17 May 2027
Product Certification
Ekolabel Indonesia - Valid from 07 June 2021 until 09 June 2024
Singapore Green Label - Valid from 10 August 2022 until 09 August 2025
Halal Certificate - Valid from 08 December 2022 until 08 December 2026
Green Seal - Valid from 31 August 2011
SNI 8218 : 2016 For Foopak Greaseproof Paper; Issued on 17 November 2022
Other
AEO (Authorized Economic Operator) - Valid from August 2022 until August 2027
OVNI (Obyek Vital Nasional Indonesia) - Valid from 02 September 2014
Paper
With the application of modern technology, Tjiwi Kimia produces high-quality products such as: coated paper, uncoated paper, specialty paper, Plano size, or specified sizes of paper based on the requirements of both export and domestic market. As its commitment to a sustainable environment, Tjiwi Kimia has invested in a de-inking plant to recycle waste paper and produce recycled paper. With 13 paper machines, the production capacity reaches more than 1,200,000 metric tons per year.
Stationery
We produce a wide range of converting products of school and office products, such as exercise book, spiral, pad, loose-leaf, hardcover book, envelope, register roll, plotter, and also computer paper. We offer various writing products and office products of excellent quality, stylish, and manufactured with the state of the art technology.
Chemical
Tjiwi Kimia Chemical factory produce many kinds of industrial chemicals, such as caustic soda liquid (NaOH), Liquid chlorine (Cl2), Hydrochloride acid (HCl), Sodium hypochlorite (NaOCl), and Calcium hypochlorite (Ca (OCl)2). The Chemical plant has implemented modern technology through the Membrane System and has achieved ISO Certificate for 9001 and 14001
Carton Box
Tjiwi Kimia produces high-quality carton boxes customized to clientele's needs and requirements. We also produce corrugated sheets and corrugated cartons U/ corrugated C which can be directed into several size variations and put together using either glue or stitching.
AWARD
SUBROTO'S AWARD FOR ENERGY EFFICIENCY 2018 on 28 September 2018
PRIMANIARTA – EXPORTER GLOBAL BRAND DEVELOPMENT 2019
PARITRANA AWARD 2022 - JUARA 3
BEA CUKAI PERAK AWARD 2019 - IMPORTER WITH BEST COMPLIANCE 2019
BEA CUKAI PERAK AWARD 2019 - IMPORTER WITH BEST DWELLING TIME CONTRIBUTION 2019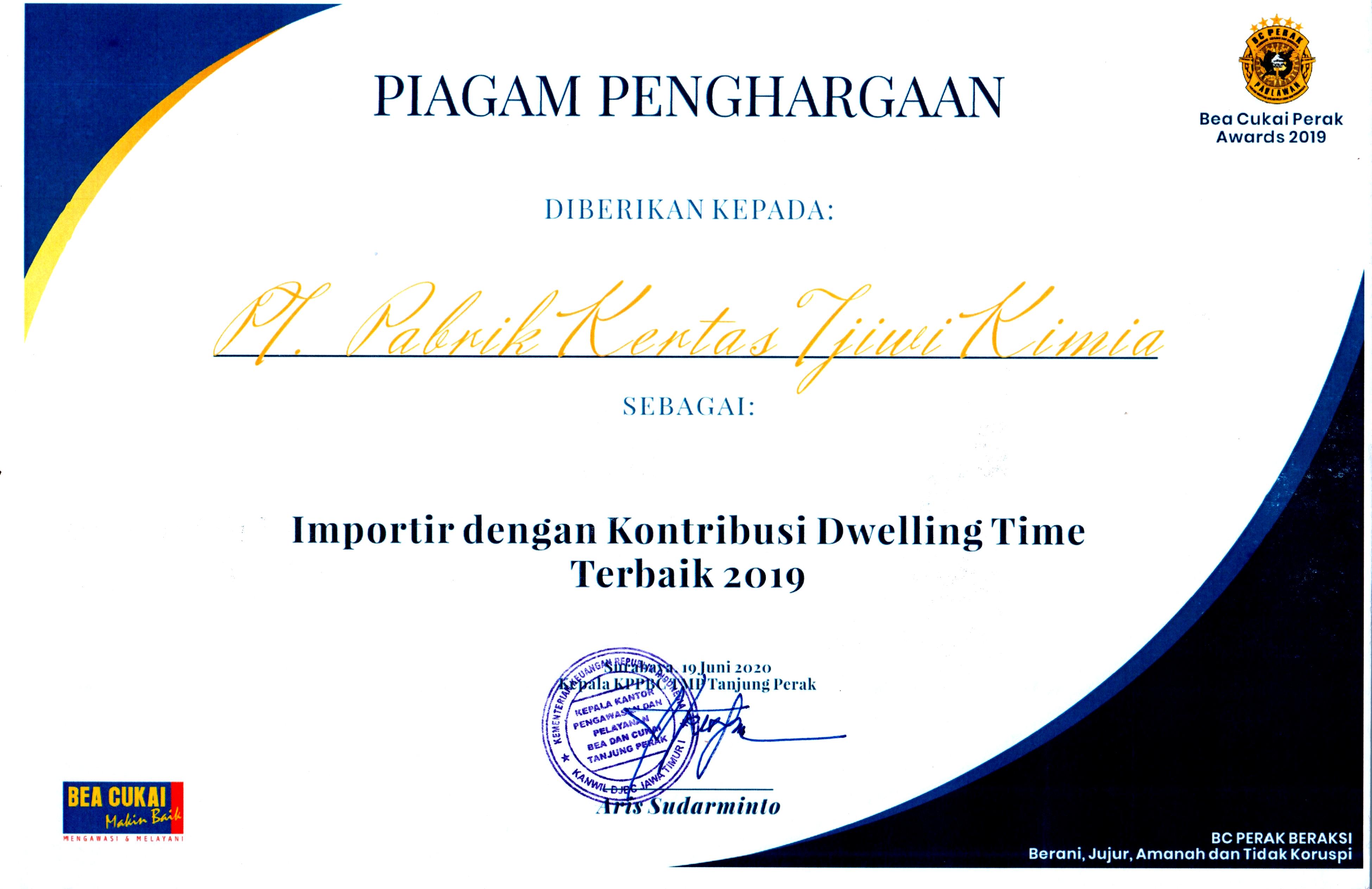 Research and Development
Tjiwi Kimia Research & Development (R&D) is the key on how innovation works. Innovations come about as the result of a planned with leading scientists, suppliers and specialist businesses, and managed by an essential role in our ambition to make a positive impact on the world around us.
Tjiwi Kimia has more than ten core scientists, supported by 22 staffs, and provided with the main laboratory since 1996. The team has more than 10 years experience in paper industry and spreads to many functions on processes & products. R&D grows and become bigger, starts in 2016 the team called with New Product Development (NPD) that is integrated with HQ NPD & BU/Sales and completely focus on quality, customer, and ecient cost to ensure continuous development of Tjiwi Kimia existing product portofolio.
The function of NPD with integrated systems, is responsible to :
Design and develop new technology-based products, services and processes.
Translate functional needs into specifications, with preventive & corrective analysis
Process optimization & cost reduction with customer
Fulfil legal requirements (certificate as ISEGA, FDA, BFR, Halal, Recyclable, etc.)
Tjiwi Kimia NPD innovates and creates products in compliance with environmental standards, seeks to optimise sites to balanced the production costs. With all those resources, we are committed to create the market growth to satisfy our customers by fulfilling their requirements to improving the quality of consumers' lives.